When it comes to marketing a business in the modern age, it's all about content. However, with so many different types of content––social media, audio, visual, printables, and many more–finding the right fit for your business can be overwhelming and, oftentimes, confusing.
There is a myriad of factors to keep in mind when deciding what type of content best serves your business model. Luckily, we're here to narrow down five essential tips when it comes to choosing the right content for your business.
1. Know Your Industry and Your Audience
When choosing a specific content type for your business, it's important to keep in mind both the industry and the audience you are serving. Looking to competitors and similar businesses is a great start when it comes to identifying what works.
For instance, social media platforms like Linkedin are best for B2B (business-to-business) companies and a more professional demographic. However, sites like Instagram and Twitter are more effective when it comes to a younger, more casual audience in the clothing and lifestyle industries.
2. Identify your resources
Even the most accomplished content professionals don't have the necessary skills and resources to create every type of content imaginable. That is why it's important to identify your strengths and resources when deciding which type of content best serves your business.
For example, choosing to pursue audio content requires a great deal of equipment and knowledge, from mixing audio tracks to purchasing professional-grade equipment, on top of other tasks that may require the help of a professional, if you don't possess these skills already.
3. Pinpoint Your Priorities
With so many different types of content possibilities, comes a whirlwind of ideas. One of the most important tips when it comes to choosing your content is this: start with what is necessary. Creating a website, social media page, or blog are all important content building blocks for a successful business.
Once you master these areas, you can pursue other modes of content. However, identifying and executing the content types that will serve as the foundation of your content strategy is extremely important.
4. Budget Accordingly
Budgeting–in the monetary and time management sense–is one of the most important aspects of running a business. Some forms of content like long-form video and audio take a longer time to produce in comparison to social media and other short-form content.
With this same notion, some types of content require different types of financial commitments than others. Does the content require hiring an employee, or resources you don't currently own? Identifying both your fiscal and bandwidth capabilities will help you narrow down the content that aligns with your business.
5. Always Analyze Results
Creating a piece of content doesn't mark the end of your content strategy. One of the most important tips when it comes to finding the right piece of content is to keep an eye on its performance. Continue to note how many website visitors you get on a blog post, how many subscribers sign up for your e-newsletters, how fast your social media following is growing, or how many downloads your video receives.
If your content isn't performing well, explore different areas to find the best type of content for your business. After all, there's no one-size-fits-all content strategy. It's all about what works for you and your business.
To that end, look at the following flowchart and decision wheel, courtesy of WebsiteSetup, to determine which content type is truly right for your business.
Check out: Understanding Tody's Digital Generations
Tips to Help You Choose the Right Content
Check the amazing decision wheel below to help you visualise and decide what type of content you want to choose for your business;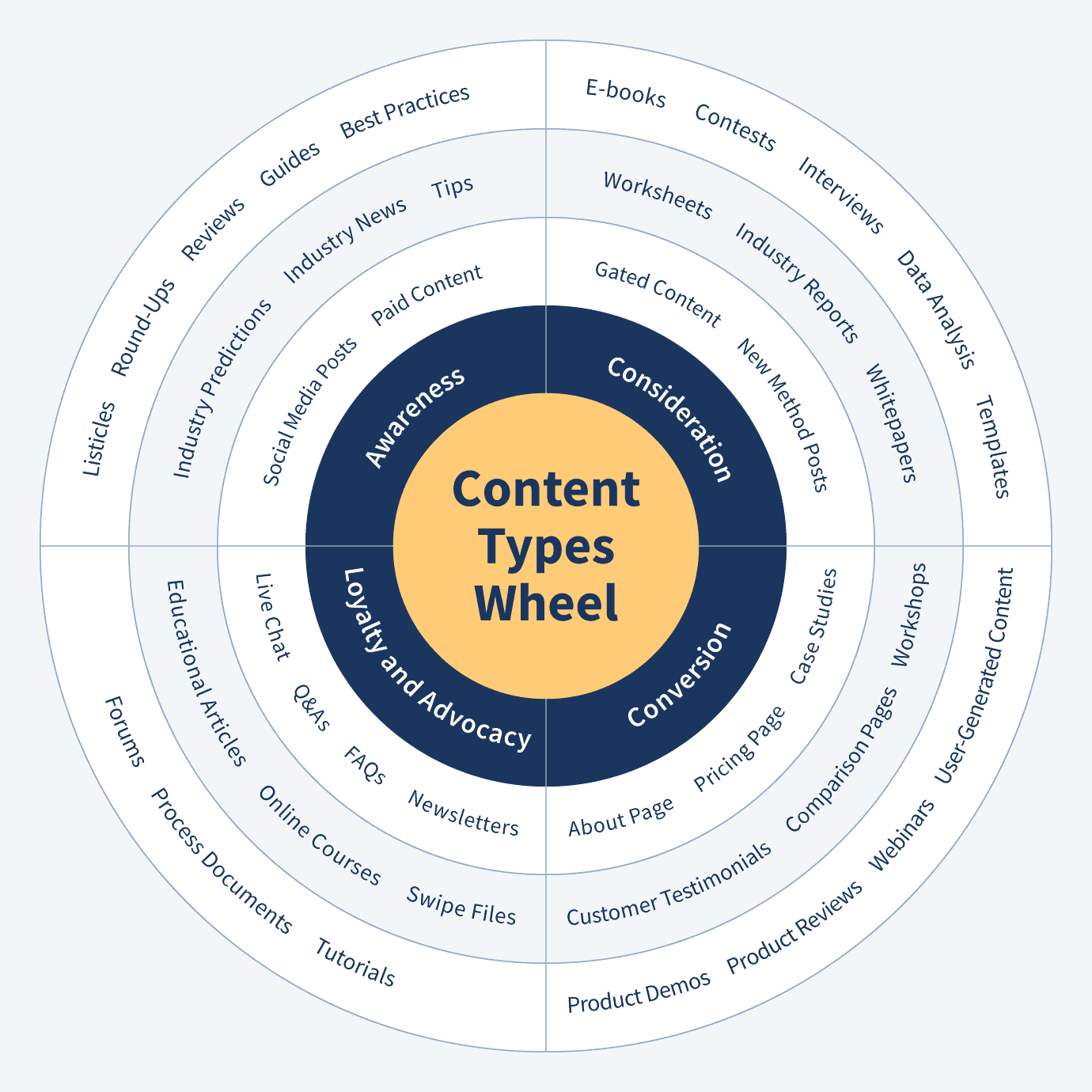 Check out: Best 6 Free Digital and Online Marketing Courses
Julianna Marie is a writer and digital marketer who has written and created content for a variety of magazines, agencies, universities, and businesses. Her specialty lies in lifestyle and entertainment (notably Taylor Magazine and The Big Sister You Needed), but she occasionally explores business and technology.